The world's first lithium supply chain! Tyeeli has passed the Responsible Mineral Audit Procedure (RMAP) audit!


In May 2023, The Responsible Minerals Initiative (RMI) published on its website that Yibin Tianyi Lithium Industry Co., Ltd. has passed the assessment of RMAP (Responsible Minerals Assurance Process).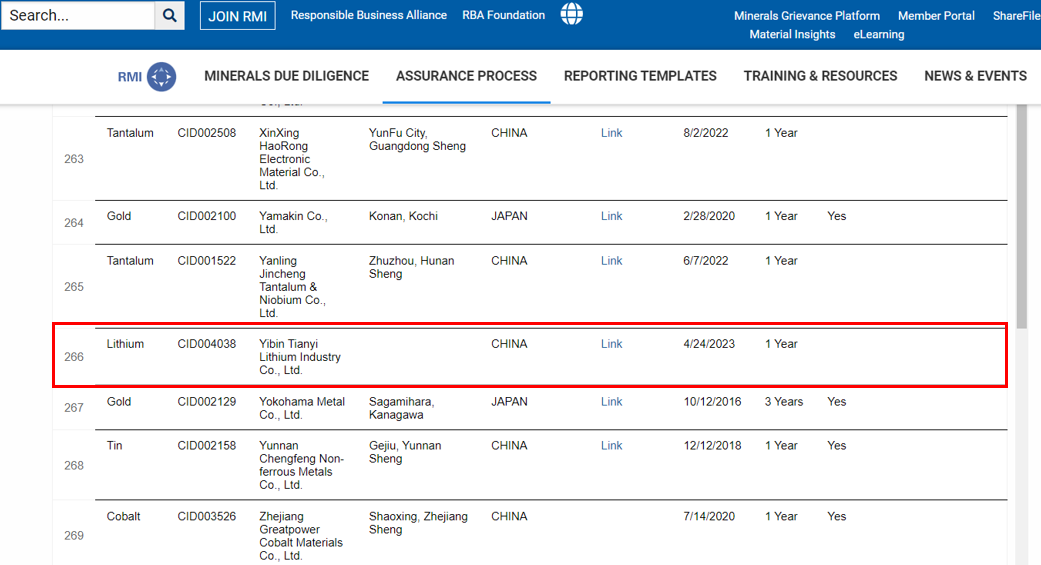 Figure 1 RMI Website Announcement
According to RMI, Tyeeli is the first upstream enterprise in the global lithium supply chain which applied for RMAP certification and has passed the assessment of All Mineral Standard. It demonstrates Tyeeli's conforming upstream mineral supply chain and effective responsible system and will help the company continue the provision of quality and reassured products and services to customers.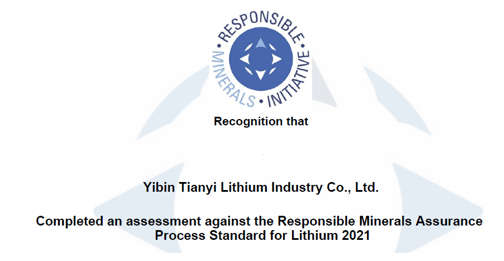 Figure 2 Snapshot of the Certificate
Working with global partners, Tyeeli is committed to building a sound, green and sustainable lithium supply chain. We have developed the "Responsible Supply Chain Due Diligence Management Policy" in accordance with the "Chinese Due Diligence Guidelines for Responsible Mineral Supply Chains" issued by the China Chamber of Commerce of Metals, Minerals & Chemicals Importers & Exporters (CCCMC) and the "OECD Due Diligence Guidance for Responsible Supply Chains of Minerals from Conflict-Affected and High-Risk Areas, Third Edition" issued by the Organisation for Economic Co-operation and Development (OECD). This policy has provided basic reference for sourcing activities involving lithium metal in the whole process from mining to end user and for the risk awareness in the supply chain.
List of conforming members on RMI website:
https://www.responsiblemineralsinitiative.org/responsible-minerals-assurance-process/smelters-refiners-lists/export-all-conformant/
Tyeeli's responsible sourcing policy:
https://cn.tyeeli.com/zeren.html
About RMI:
Founded in 2008 by members of the Responsible Business Alliance (RBA) and the Global e-Sustainability Initiative (GeSI), the Responsible Minerals Initiative has grown into one of the most utilized and respected resources for companies from a range of industries addressing responsible mineral sourcing issues in their supply chains.
RMI aims to promote understanding and help mitigate the significant impact of extraction and processing of minerals in the supply chain on the society and environment, tapping direct or indirect partnership and applying international standards such as The UN Guiding Principles on Business and Human Rights and OECD Due Diligence Guidance. As an industrial programme, RMI works with all stakeholders and helps companies meet the demands of current and future market demands and satisfy legal and regulatory expectations.