Practice concept of ESG | We are successfully awarded a SA 8000® social accountability management system certificate in May 2023
2023-05-29


When the times call for sustainable development, enterprise social accountability are increasingly getting the attention of the society. As the first international standard of social accountability that applies to audit and third-part certification, SA 8000® is widely used.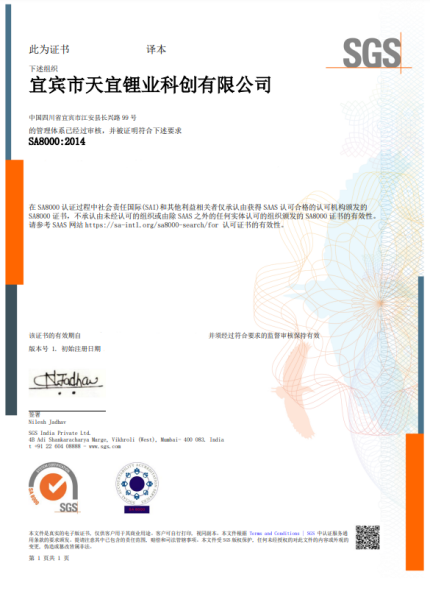 Tyeeli started building a SA 8000® system in March 2022, and got through the in-depth investigation, establishment of an internal audit team, preparation of necessary documents, internal audit of the system, and management review. We are successfully awarded a SA 8000® social accountability management system certificate after strictly audited by a SGS export team in May 2023.
It is a key work of ESG governance for Tyeeli in 2023 to build a social accountability system and certify the system. The successful certification represents a recognition for Tyeeli's practice and management performance on occupational health, employee equality and pays&benefits, etc. Since its founding in 2018, the company has achieved the following practices and performance on social accountability:
1.The company has built complete human resources management system and institutions, and standardized employee recruitment, pays and benefits and occupational training, among others;
2.The company not only pays the "five insurances and one fund" as legally required for the staff, but also provides accident insurance, holiday allowances, free work meal, free physical check and hot-summer allowances for them;
3.The company sets out annual training plans and training programmes to improve the professionalism and job skills of all staff based on development planning, staff training and development needs and business requirements;
4.The company provides the staff with a good working environment, healthy and diversified work meals, various recreational facilities, coffee and tea bags in the pantry, staff birthday parties, and a staff library in the office building;
5.The company adheres to sustainable development of society-enterprise community, and takes actions to sponsor rural development, poor people aid programme, education donations and disaster aid effort, etc. It spent over RMB 1.8 million on public benefit programme in 2022; and
6.………..
About SA8000:
SA 8000® stands for Social Accountability 8000. Established and executed by Social Accountability International (SAI), it is the first international ethical standard in the world. Since coming into being in 1997, it created a common language to gauge the social accountability and applies to companies of any industry and size around the world. Just as ISO 9001 quality management system and ISO 14001 environment management system, SA 8000® is the first international standard of social accountability that applies to audit and third-part certification.